Outrage as Indian judge calls alleged rape victim 'unbecoming'
An Indian judge is under pressure to delete comments from a court order that questioned the behaviour of a woman who alleged she was raped.
Granting bail to the rape accused last week, Justice Krishna S Dixit of the Karnataka High Court said he found the woman's statement "a bit difficult to believe".
Justice Dixit went on to ask why the woman had gone "to her office at night - at 11pm"; why had she "not objected to consuming drinks with him"; and why she had allowed him "to stay with her till morning".
"The explanation offered by her that after the perpetration of the act she was tired and fell asleep is unbecoming of an Indian woman," the judge said, adding that it was "not the way our women react when they are ravished".
His remarks set off a storm of protest. Outraged Indians asked if there was a "rulebook" or a "guide" to being a rape victim. An illustration was widely shared online which, drawing on several recent court rulings, mocked up "An Indian judge's guide to being the ideal rape survivor".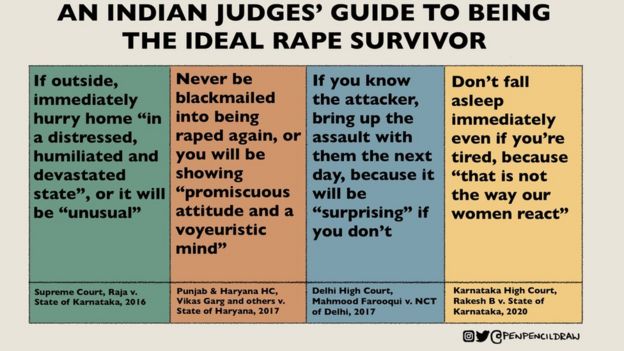 Aparna Bhat, a senior Delhi-based lawyer, wrote an
open letter
to the chief justice of India and the three female judges of the Supreme Court in response to the ruling.
"Is there a protocol for rape victims to follow post the incident which is written in the law that I am not aware of?" she wrote. "Are 'Indian women' an exclusive class who have unmatched standards post being violated?"
Appealing to the Supreme Court judges to intervene, Ms Bhat said the judge's remarks showed "misogyny at its worst", adding that not condemning them would "amount to condoning".